Born in 1919 in the foothills of Germany, Haas has created a legacy of dedicated craftsmanship, handmade engineering, and longevity in each of their grooming tools. Designed without glues, nails, or screws, these shatter-proof tools are often designed from a single plastic mold, ensuring durability and long-lasting quality. Professional grooms, trainers, amateur owners, and horse care enthusiasts around the world attest to these colorful, hardworking brushes, curries, and hoof picks.
Whatever your grooming preference, Haas brushes are available in a wide variety of bristle materials (synthetic rice root, coconut fiber, horsehair, sheepskin), sizes, and functions to accommodate even the dirtiest and most sensitive-skinned horses. Tested and proven for generations, feel confident and rest assured Haas brushes will produce a clean, glittering horse every time its pulled from a grooming caddy.
Brush for Caked-On Mud & Tough Spots
Striegel Der Gute Curry– THE BEST CURRY COMB EVER. Roomy leather strap and rounded plastic "teeth" easily work out dried mud and hard-to-clean dirt spots.
Schimmel: Stiff, dense coconut fibers easily remove stubborn manure, grass, and dirt stains. Perfect for the night-before a show and your white horse is suddenly green!
Putzi Double Sided Brush: Features horsehair on one side and massaging curry on the other, this multi-functional tool can be used to clean heavy dirt away from the hoof, mane, or body.
Joker Hoof Pick – Fastened with an extra-stiff brush and steel pick, perfect for digging out embedded rocks or for deep set hoof grooves.
Best for Body
Welsh Brush: Wide leather hand strap and horsehair bristles cleans and polishes the coat for any moderate sized dust particles
Fellglanzburstse : Great to use as a body brush for those thin-skinned Thoroughbreds or sensitive horses, this soft yet densely-woven horsehair brush creates a luxurious finish.
Brenig Madoc Combo Brush: The #1 best-selling Haas brush, this tool features extended synthetic bristles and wide set brush that covers a large surface area. Gentle, yet effective on removing dirt, sand, and shavings.
Best for Mane & Tail
Mahnenburste Large Dandy Brush: This 8cm tall brush is great for flicking away mud post-curry and trapped dust particles. Can also be used on the body.
Mahnenburste Small Dandy Brush: The short, 3cm synthetic bristles are great for working caked on mud and brambles through manes and tails without damaging or breaking hair.
Best for Legs and Face
Grundys Finest : Made with super-soft horse hair and short bristles to collect even the finest dust particles, this brush creates a show ring shine and comfortably sized enough to slip over joints and ears.
Kopfburste Face Brush: Features an elastic hand strap to get into nooks and crannies, this palm sized brush can alternately be used for thin-skinned, super sensitive horses. Made from uber-soft white horse hair.
Best for Finishing Touches
Diva Best and Diva Girlie Girl: Designed with the most luxuriously soft Mattes sheepskin and softest horsehair bristles, the Diva essentially buffs and waxes your horse's coat to create a blue-ribbon finish and show-stopping shine. Perfect to give as a gift – even if it's for yourself!
Best for Petite Hands
Striegel New Generation Soft Curry – Able to fit in little one's hands, the soft rubber is great for ponies, nooks and crannies with a soft-touch feel
Kinderwurzel – Made from stiff, synthetic rice-root bristles, the elastic hand strap and vibrant colors make grooming time fun for children young and young at heart!
Smile Dandy Brush: 5cm synthetic brisles easily flick away dirt and dust, plus the fun smiley face handle is sure to cheer any little groom's day.
Schmuserburste: Palm sized and with an elastic strap, the exceptionally soft horse hair bristles smooth and glide over legs, body, and face.
Hufkratzburste – Single plastic mold and brightly colored, this hoof pick is great for everyday hoof cleaning, while the contoured grip keeps your hand comfortable. Plus, the nail hole up top makes it easy to hang or attach to a key ring.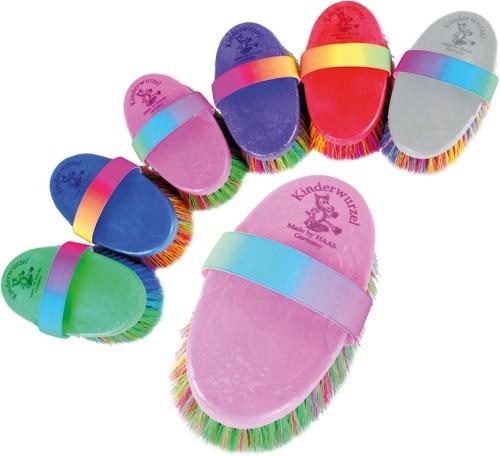 Final Thoughts
Whether you're new to grooming or a seasoned pro, most grooms value a quality set of brushes including a curry, stiff brush, soft brush, hoof pick, and mane brush for just about any job. With a variety of fun colors available and easy-to-wash convenience, these tools will enhance the bonding and care taking experience grooming has to offer. An important reminder, Haas brushes will last for years to come, if kept with proper care and storage practices. Simply wash with cold water and mild soap on occasion, and leave to air dry.
Enjoy the ride,
Colleen C. – Purchasing Associate